TVO's environmental report is based on the requirements laid down in the EMAS Regulation and serves as a verified environmental statement of the operation of the Company.

The environmental report for 2018 provides a comprehensive presentation of the environmental impact of TVO's operation, the Company's objectives with respect to environmental protection, and their achievement, as well as the key environmental indicators. DNV GL Business Assurance Finland Oy Ab has in the capacity of an accredited, independent and objective party verified the information presented in the environmental report. The report can be found under Verification report.

TVO publishes the environmental report in Finnish and English.

The information to be reported for 2019 will be published in the spring of 2020.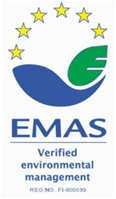 Olkiluoto power plant has been EMAS (Eco-Management and Audit Scheme) registered with code FI-000039 (NACE code D 35.11).